This walk in Pembrokeshire explores the amazing landscape and parkland designed by the Cawdor family as a backdrop to their grand house, Stackpole Court, demolished in 1963.
The National Trust's Stackpole Estate in Wales is home to some of the most dramatic coastline and idyllic beaches anywhere in the UK. This gentle family-friendly walk takes in riverbank scenery and the lovely landscape in and around the estate's Lodge Park.
Read more ...
A network of footpaths means you can choose your own route, watching out for landmarks as you go. You'll come across the summer house, designed to be an eye-catcher from the house; a walled garden with a stone seat shaded by ginko trees; an ice house once used for preserving food and now used by bats, tranquil woods and spectacular lake views.
Don't miss the Hidden Bridge, a spill-over weir with a causeway designed to create the illusion of people walking on water when viewed from One Arch Bridge a bit further down.
To the side of Lodge Park are immense walled kitchen gardens that once supplied the Cawdor family. The gardens are now run by Mencap who grow food for sale, so you could take some Stackpole produce home with you.
Stackpole's coastline is the jewel of Pembrokeshire. If you have time to linger there are miles more family-friendly footpaths and trails to enjoy. Soaking up the seaside scenery here is easy.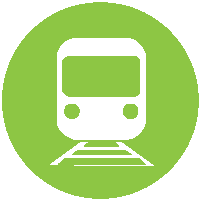 Nearest Train (or tube) Station(s):
Tenby, Swansea