Discover fabulous heritage trees, including the National Trust's top tree for climbing, on this fun short walk for all the family at Wallington in Northumberland.
Wallington has 13,000 acres of lawns, lakes, woodland, parkland and farmland waiting to be explored.
This short walk around the East Wood takes in Wallington's wonderful collection of heritage trees, mainly planted by the Trevelyan family in the 19th century.
Younger members of the family will enjoy clambering over one of the amazing trees on this walk. The Nootka Cypress, named after the North American Nootka Indian tribe, was planted at Wallington in around 1890. It was voted the National Trust's number one climbing tree in their '50 things to do before you're 11¾' campaign.
There's a leaflet available at Gibside with information about this and other trees featured on the walk, including the 'George Bernard Shaw' Horse Chestnut, 'The George Otto' Western Red Cedar, the Giant Sequoia native to the Sierra Nevada in California, and Wallington's huge 'Blackett Beech' tree.
This circular walk is on surfaced footpaths and will bring you back to the courtyard where there's a café and a plant centre.
Read more ...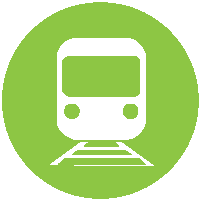 Nearest Train (or tube) Station(s):
Newcastle
 Click photos below for more information: