Mawddach Sensory Walk
Away from the grey stone of Dolgellau town,
The Afon Wnion flows seaward, host to feather and down.
Whilst Duck and Dippers fly over white water,
Fast jets overhead, practice, not giving a quarter.
Read more ...
Silver birch line the way giving shelter and shade,
And in near-by coves Sailing Ships were once made.
Vast beds of reeds sway to and fro,
Beyond the low hills in sunlight will glow.
Wading birds call over an incoming tide,
As water covers all, there's no where to hide.
Nearer our station, Penmaenpool, things change,
Reeds into green pasture where lowing cattle range.
Now Railway features take pride of place,
Signal, Signal Box, platform 1 all in a short space;
The Toll Bridge rumbles as cars pay their way,
Across the river, but it's here we will stay.
Refreshments provided by The George 111 pub
Then retrace your steps, or bus, for some Dolgellau grub.
Verdict of the walk: A pleasant introduction to walking old railway lines with the bonus of sea air and a big sky.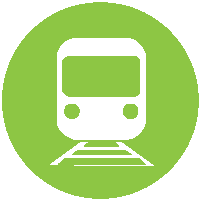 Nearest Train (or tube) Station(s):
Morfa Mawddach, Chester