Sense and The Outdoor Guide have partnered to create two sensory walks in London – 'Giving people the space to explore nature whilst being active.' Sense is a national charity supporting people with complex disabilities. At Sense, we believe everyone, no matter how complex their disabilities, deserves the right to enjoy a physically active life.
Walking is a great way to stay active and Trent Park offers a wealth of sensory delights along the way. Download the walk map pdf to enjoy the walk on your own, with family and friends. Or, soon you can join us on our guided walk, aimed at people with complex disabilities but open for anyone to join. For more information please contact Mayana McDermott, mayana.mcdermott@sense.org.uk
Walk Details (Written by Ben Wilson, as featured in the video who has a visual impairment and love of the outdoors)
This walk is a real treat and one that takes you by surprise. We begin with a gentle stroll along a boulevard of trees. On either side of us is a large open expanse of fields and rolling hills as far as the eye can see, accompanied by the gentle tweeting of the local birds. Life doesn't get much more relaxing.
Read more ...
We stop to admire some elegant animals carved in wood, which are really well done and a fun addition to the early stage of our walk. As we come towards the end of this first section we arrive to the animal sanctuary which looks like a real treat.
Things take a dramatic twist when we turn off the tree lined avenue and onto the path which leads us into the woodland section of the park.
This couldn't be more different from the gentle stroll we were just enjoying and now it feels like we are on a real adventure!
A thick canopy of trees overhead and a muddy path under foot makes it feel like we've been transported into a completely different habitat.
We battle through the mud, past some incredible old trees growing in the most fascinating shapes, and reach a bridge that perhaps is the highlight of the walk.
This bridge crosses an impressive running stream. On one side of the bridge the water is cascading dramatically and incredibly fast down a series of rocks, but once it has passes under the bridge it becomes a gentle, delicate babbling brook. This creates a complicated series of sounds and makes this section of the walk very interesting.
The path breaks briefly out of the cover of the trees and the change in the air is palpable. The world feels completely different now we're back in the open. We briefly cut back through the woodland and re-join the path where we gently roll along towards the café for the all-important cup of tea.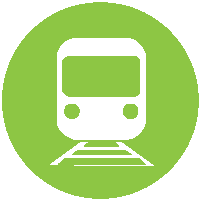 Nearest Train (or tube) Station(s):
Cockfosters Station, London Euston
TOG VERDICT
"An exciting escape into a beautiful natural environment that you'll never want to leave."