Walk Details
Discover defence, D-Day and diving in this walk from the Diving Museum on Stokes Bay Road, through parks, along the Bay and through Alverstoke village.
Uncover the history of which royalty lived here, the significance of the 'chocolate blocks' and the importance of the Forts in Gosport's defence.

Read more ...
Discover the origins of the village of Alverstoke, and take time to explore what is now Stanley Park and The Osborn Garden.
Starting at the Diving Museum, take a look around- there is plenty to see outside as well as inside: (opening hours are limited to weekends during the summer months).
Cross over Stokes Bay Road and then turn left. Walk up the hill and on the right you will see Bay House School.
Continue along Gomer Lane and cross over the one-way street to remain on the cycle/footpath. Halfway along, turn right and head towards Stanley Park. Enter the park and keep to the main path going straight on.
Walk through the trees, keeping an eye out for the wooden sculpture on the left. Where the path bends at the end, turn right and through the gate towards the Alverbank House Hotel.
Head south towards the sea, being careful of the road being used by both pedestrians and vehicles. Turn left on to Stokes Bay Road. Just past the bus stop, cross the road where it is safe to do so and then turn left onto the promenade.
Walking along the promenade, you have views out to the Solent and the Isle of Wight. Walk past the splashpark and playpark and at the cafe look for the memorial and the interpretation boards. A little further along you will find The Mulberry Harbour memorial.
Continue along until you see a path at 90 degrees to the left across the field. Take this path away from the sea. At the mini roundabout cross over to Anglesey Road heading north, until you reach St Mary's Church.
Turn left along Church Road and then bear left. When you reach the little island, turn right into Village Road.
At the end of the retail part of Village Road turn left and continue until you reach Jellicoe Avenue. Cross here on to Western Way. Continue along Western Way until you reach the north entrance to Stanley Park and enter here. Head south in the park until you see the walled garden on the right: enter Osborn Gardens.
Continue through Osborn Gardens and at the end, exit left and then turn right to walk past the Alverbank House Hotel again heading towards the sea and then turn right along the pavement, back to the Diving Museum.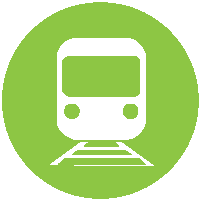 Nearest Train (or tube) Station(s):
Portsmouth