Walk Details
From the Tourist Information Centre, walk away from the Gosport Ferry towards the main road. Turn right onto the main road past the Castle Tavern PH. Turn right onto Harbour Road and follow the road round to the left. As the road bends, look over to the right and across to Gosport (Premier) Marina/Endeavour Quay. Warning- keep your wits about you with moving vehicles, boats and cranes.
Read more ...
Turn right on to the A32, walking past some warehouses on your right which contain a local brewery, then turn right onto Weevil Lane. Walk past the car park entrances and then turn right into the main car park at Cooperage Green. As you head round to the left, you will see the Pump House Café. You have now entered Royal Clarence Yard. Keeping the Pump House on your left, continue to the far side of the car park, where you will see a small opening between buildings. Enter into Flagstaff Green.
Turning away from the original gate, head towards the waterfront and then turn left, pausing at the huge red brick buildings.
Continue towards and under the old Granary until you reach another building, now a gym, but originally the slaughterhouse. At this point turn left and rejoin Weevil Lane, turning right. As the road bends round to the left you will see a path on the right leading to the Millennium Bridge. Walk towards it and pause on the bridge.
Continue over the bridge, making sure to check out the interpretation board, then bear right onto Heritage Way. Follow the road up to where the road bends and you should be able to walk through to Explosion! Museum of Naval Firepower. If for any reason the gate is shut, you can continue along Heritage Way to the far side of the Museum and also see the Powder Monkey Brewing Company and the Ramparts Heritage Area. You are now in Priddy's Hard.
Return back along Heritage Way, avoiding the road down to the museum, and turn right onto Searle Drive. Turn left at the end and take the footpath back to the Millennium Bridge. Return over the bridge and then bear right onto Weevil Lane. Continue along Weevil Lane keeping Clarence Marina on your right. Pause at the old railway crossing.
Continue to the end of Weevil Lane and then turn right and pause at the old Guards House of St George's Barracks, now a nursery.
Cross over the A32 where it is safe to do so, then turn left and then right onto Clarence Road, keeping St George's Barracks south on your right. As you walk past this part of the Barracks, look out for the tin-roofed building.
Continue along Clarence Road, until the road forks. Take the right fork along Ordnance Road until you join the High Street, and then turn left.
At the end of the High Street, cross over the road and head back to the Tourist Information Centre.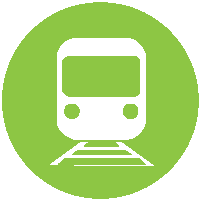 Nearest Train (or tube) Station(s):
Portsmouth