From the Tourist Information Centre, walk towards the Gosport Ferry and turn right on to the Waterfront Trail (you will see mosaic tiles and a chain along the route). Head south until you reach the Timespace Memorial.
Return to the path and continue south until you reach Trinity Bastion and Rampart Number 1.
Continue on the path, walking past Haslar Marina, until you reach Haslar Bridge.
Hold on to your hats as you cross Haslar Bridge, especially on a windy day; this used to be known as pneumonia bridge! Continue over the bridge, exercising caution.
Once over the bridge, you will see HMS Hornet (Joint Services Adventurers Sail Training Centre) on your left. Turn left onto the road signed for the Royal Submarine Museum and continue along this road until you reach the end (passing the car park to your right). To your right along this road is the old Haslar Hospital, which is now being converted into residential units. Beware of the cobbled stones.
Turn round and head down towards the  Submarine Museum and Fort Blockhouse, take time to look at the submarine HMS Alliance on full display, cast your eyes down to Fort Blockhouse to the right, over Portsmouth Harbour, or pay to take a visit inside the fantastic Submarine Museum. You can also sometimes get the ferry across to Portsmouth Historic Dockyard in the summer; please check their website in advance.
Return the way you came along the cobblestones and back over Haslar Bridge. On reaching the other side of the bridge, continue along the road (Haslar Road) walking past Bastion No. 1 from the other side, and then pause at Trinity Green to view Holy Trinity Church.
Head further north along Haslar Road until you reach South Street. Cross with caution, and find Bemister's Lane directly opposite. Walk along the Lane.
At the far end of the lane you join the pedestrianised High Street; turn right (or take a stroll first to the left up to the end of the pedestrian section and then return), making sure to look up at the buildings and down at the ground as you walk.
At the end of the High Street, cross over the road, and bear left to walk around Falkland Gardens before walking past the Gosport Ferry and returning to the Tourist Information Centre.
References and for more information on any of the above please visit the following sites:
Gosport Society: www.gosportsociety.co.uk
Gosport History Club: www.gosporthistoryclub.org.uk
Gosport Railway Society: http://grsupdate40.blogspot.com/2016/07/
Gosport Heritage Open Days: www.gosportheritage.co.uk
Read more ...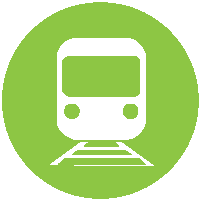 Nearest Train (or tube) Station(s):
Portsmouth