A varied walk on good tracks with gentle gradients and attractive views.
Distance – 8 Km (5 miles) with 200m (600 feet) of ascent. Allow 21⁄2 hrs.
Start Point: The Byre Inn. From Tigh Mor, turn left and follow the A821 towards Callander. In approximately 2 miles, just after a sharp right hand turn across a bridge, the Byre Inn is on your right. If you reach Brig o' Turk, you've gone too far.
Read more ...
From the furthest end of the car park, follow a broad track past the inn on your right. In about 100m  you should  the bridge over the Black Water  and continue along the track where you will soon come to Achray Farm. Go through a gate to the T junction at Point 1 (NN529063).
WALKING INSTRUCTIONS
You are now on the Forest Drive. Turn left and follow the Forest Drive where in approximately 300m , you'll cross a cattle grid. In about 250m down the track, you'll see a path to your right but carry on straight ahead and  cross over the burn.
You'll reach Point 2 (NN533056) in another 100 m where you'll come to  a barrier across the path uphill to your right.  Follow this rough track uphill and you'll come to a T junction in approx 100m.
Turn left here and continue downhill – in some places the track turns into a proper path.
Continue on for approx 400m when you'll come to a fork in the road. Turn right and carry on for another 400m until you'll come back to  Forest Drive  -Point 3 (NN536049).
Turn right here and follow  Forest Drive to the car park & toilets( Pine Ridge NN535046)
Leave the car park with the toilet block on your right then  follow the white and green wayposts which will take you past some 'sound sculptures' above Loch Drunkie. The white signposts end after the second sculpture so continue following the green only ones. 
In approx 1Km, stop following the green wayposts which go left, and keep to the right. You'll soon be back at Forest Drive and the 'Fisherman's carpark' – Point 4 (NN544049).
Turn right along the forest drive and after the 10 MPH road sign, turn right. This path is a little uneven in places but does improve as you drive along the northern end of the loch . Continue on down this path for a further 400m along the southern shore of Loch Venachar.
Turn left and in about 1 Km  you'll pass a barrier which will take you back to the Forest Drive via the Cycle Route 7 signpost – Point 5 (NN537055).
Carry on straight ahead past the 'Loch Katrine 4' sign and  follow the Forest Drive, passing Point 2 again in approx 400m
From here retrace your steps to Point 1 where you turn right past Achray Farm and finally arrive at the Byre Inn where there's no doubt a drink and some food with your name on it.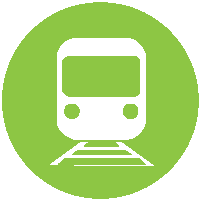 Nearest Train (or tube) Station(s)
Stirling, Glasgow