This is a circular 4 mile walk from the David Marshall Lodge with good views of the Mentheith Hills.
Distance – 6.5 Km (4 miles) with 170m (500 feet) of ascent. Allow 2 hrs.
Start Point – The Lodge (Forestry Commission visitor centre – previously known as the David Marshall Lodge).
Turn right out of Tigh Mor and follow the A821 towards Aberfoyle. The lodge is on your left, about 1⁄2 mile short of Aberfoyle as you descend towards the village. NN517015.
Read more ...
WALK INSTRUCTIONS
Start at the front door of the lodge. Walk down the driveway and in less than 100m, just after a slate built cottage, turn right down a footpath towards the lochan and the carpark.
Pass a 'Pay & Display' machine on your right then in less than 50m as the road veneers to the left, you should turn right and head down the path.
In a few metres, you will see a board walk on your right. Walk a further 150m keeping to your left, and head uphill past a blue waypost which is situated just before a small stone bridge – Point 1 (NN521017).
The path is a slight incline but follows the line of a burn. There's a seat if you need one on your left. In about 500m, cross the main road which has wooden barriers at each side. This is the A821 – the road across the Duke's Pass to Tigh Mor.
In about 300m you will see a path on your left between two blue wayposts.  Continue walking alongside the road and if you look up and ahead, you should see the tramway from the slate quarries.
In about 500m to your right, there's a small path which, blink and you will miss it. Carry on however and you'll find yourself going downhill, past a blue waypost, before you reach the road. The path zig-zags gently downhill and in another 500m (8 mins) you will cross the road again at Point 2 (NN518027).
Next you will pass a green metal barrier which leads onto a forestry track. The path soon veers to the right to run parallel to the road. There's another track to your left in about 400m but carry on ahead and in about 1 km you'll come to the crossroads at Point 3 (NN526022). Turn right, downhill past a blue/red waypost and in about 400m you will see a waterfall to your right.
Continue down the main track (past the mountain bike trek on your left) and in approximately 200m, you will pass the 'Go Ape' rope course on your right and another mountain bike trail on your left.
Continue downhill for about 300m  to Point 4 (NN526017) – where you'll come to a T junction. Keep right, following the blue/red wayposts and carry on downhill. In 300m you can cross the burn via a wooden bridge and there's a lovely waterfall to your right.
When you've marvelled at the waterfall, walk past the boardwalk and turn right following the blue wayposts uphill. You'll be back to Point 1 in about 300m. The car park is only 150 m away.
Tigh Mor Walk Pack v3.0, December 2015. Contains Ordnance Survey data. Crown copyright and database right 2015.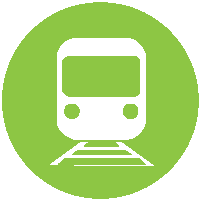 Nearest Train (or tube) Station(s)
Stirling, Glasgow