Walk Details
AccessTOG was thrilled to be asked by The Canal & River Trust to film a section of the wheel friendly trek along the River Trent in Newark. Debbie North, AccessTOG's Outdoor Ambassador was up for the project!
It was my first visit to the market town of Newark-on-Trent, Nottinghamshire, and I was really impressed by its landmark features and its commercial history which revolved around of the development of industry along the river.
Read more ...
Newark was once a significant inland port; a transport hub for the the wool, coal and grain trade that grew up in and and around this area. Its importance lasted well into the 20th century. The legacy of impressive red brick warehouses remains, some of which have been converted into pubs and restaurants. I particularly enjoyed how the architecture of the new buildings blended with the old, making the atmosphere and ambiance of "old" Newark most attractive.
Our walk began at Newark Castle built alongside of the River Trent in1123AD and the town grew up naturally around it.
The castle is steeped in history and there are plenty of information boards around the walls and gardens providing background information. One interesting fact is that "bad" King John died at Newark Castle in1216 – not many people know that!
From the castle ruins and surrounding gardens the towpath leads down to the river. From here you can take a river cruise or you can enjoy a stroll along the towpath. Both these options are wheelchair/ buggy accessible. The river cruiser had shut down for the winter, but I am told that the upper deck is wheelchair accessible.
The riverside walk meanders through the old town and along many cobbled streets, which can be a bit bumpy in the wheelchair, but still flat and easy to access. It then joins the riverside again and continues back along locks on the other side.
We spent a relaxing time by the river, taking in Newark's dry dock – the largest inland facility of its kind in the UK which still repairs/restores local crafts. Behind the dock is the entrance to a park-providing a great setting for a picnic, and a stroll in the sensory garden.
Crossing the Trent we returned back towards the old town; this section offering particularly good views of the castle, as well as opportunities for observing the regular barge and boat traffic on this quite majestic river.
Deb's verdict
This was my first visit to Newark and I was really impressed with this riverside walk. We only covered about 2 miles but I just loved the old buildings and warehouses and the narrow cobbled streets. There were no toilets where we parked the car by the castle, but we were told that there are wheelchair accessible loos located in the market place.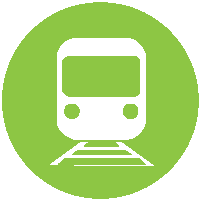 Nearest Train (or tube) Station(s):
Newark Northgate, Lincoln
 Click photos below for more information: