Route Overview
Episode 6: Islands: Isle of Man
Julia manages to squeeze three walks in one: starting with the mysterious Dhoon Glen river walk to the magnificent Irish Sea coast.
She then reveals a magical walk down the Laxey Valley to explore its mining heritage and climb the world's tallest water wheel.
Read more ...
Equidistant between England, Ireland, Scotland and Wales, on a clear day the Isle of Man affords views to all five kingdoms and Julia leads us to the top of Snaefell Mountain to share its spectacular summit.
From ancient Neolithic sites, Viking strong-holds to electric mountain railways and the pull of peregrines, puffins and dozens of nature trails – there's plenty packed in this walk on an Island only ten miles wide and forty miles long.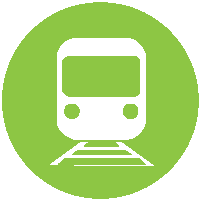 Nearest Train (or tube) Station(s)
Douglas
 Click photos below for more information: