This circular walk explores beautiful woodlands with fantastic views of Litlington White Horse in the South Downs National Park. 
This walk is great on a windy day as you'll be protected from the breeze beneath the tree canopy – and it's a safer option than wandering too close to the nearby cliff edges!
The route is well set up for wheelchairs and pushchairs. There are a few slight uphill pushes, but other than that the terrain is rugged but relatively smooth.
As you walk through the mixed woodland you'll head out to the edge of the trees, where you'll be treated to far-reaching views across the famous local downland. Watch the beautiful fields blow gently in the wind (see our video above).
There are some wild meadows here so it's the perfect place to spot some wildlife.
Keep an eye out for the impressive Litlington White Horse at the start and finish of the walk.
If you missed it, take a picnic at the lower end of the car park for a full view of the artwork.
TOG VERDICT: Stunning short walk that shows off the impressive inland scenery of the South Downs National Park, rounded off by cracking views of the beautiful Litlington White Horse.
Read more ...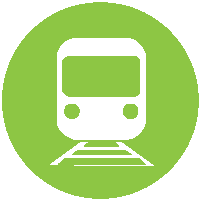 Nearest Train (or tube) Station(s):
Seaford, Eastbourne

 Click photos below for more information: