Walk Details
Start from the White Hart PH. There is a small public car park off White Hart Road.Cross over the B333 to Cleveland Road, where you will find an interpretation board and the start of the old railway. Take a read of the information here for details of the railway line.
Continue along the cycle/walking path, which was the old railway line, until you can see Workhouse Lake to your left.
Read more ...
Continue along the cycle/walking path to Jackie Spencer Bridge over Stoke Lake, known locally as 'the creek'
At the end of the cycle track there is a cottage directly opposite. This is called Admiralty Cottage.
At this point we leave the line of the old railway and turn right onto Crescent Road. Continue until you reach the entrance to Crescent Gardens and enter at the first gate. Narrow entrances. The gardens are a delight for the senses and you are encouraged to take your time wandering through and look at the interpretation board.
As you emerge at the far end of the gardens, turn left and at the end of Crescent Road, take a left onto Anglesey Road and walk to the end of the road (by the mini roundabout). Views across to the Isle of Wight.
At this point, return up Anglesey Road, walking past Crescent Road. A little further along Anglesey Road you will see an old telephone box.
Continue north until you reach number 35 Anglesey Road on the right, which is the
Old Rectory. Look for the mounting stone alongside the wall – there are not many left.
On the opposite side of Anglesey Road you will see St Mary's Church, Alverstoke.
Continuing up Anglesey Road on the left you come across Green Lane (signed for Alverstoke Tennis Club). Walk along Green Lane.
At the end of Green Lane, turn right and across the main road you will see a bench and sculpture dedicated to Nat Gonella.
Return to the southern side of Bury Road and bear right along Foster Road, where you can enter Foster Gardens.
Continue out of Foster Gardens and turn left along the top of Anglesey Road with the bowling green on the right. Rejoin Foster Road and continue along until you turn right on to South Street and back to the White Hart PH on the left.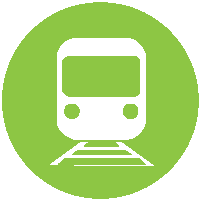 Nearest Train (or tube) Station(s):
Portsmouth