Image credit: Holly Barber
Walk Details
A short distance from the centre of Arundel, and on the edge of Arundel Castle you'll find Swanbourne Lake.
The lake itself can be a very popular spot on a sunny day with boats available to hire by the entrance and cafe.
Our walk starts by the entrance and cafe.
With the lake to our left, we're following the path that takes us along the lakeside, keep the lake to our left at all times.
As you approach the far end of the lake you can either continue to follow the path, down and around to your left to continue following the lake or, as we are going to do, continue straight on, through the kissing gate, to take a detour to see the Hiorne Tower.
We follow the path, through the luscious green valley until you come to the point where the path divides. To the right takes you deeper into Arundel Park. To the left, the way we're going, takes you on a higher path up towards the tower.
When you come to the next kissing gate at the end of the path, go through and then go right, up the steps that have been placed. At the top, on the open plain, is the Hiorne Tower. It was built in 1797 by Francis Hiorne to demonstrate his skills to the then Duke of Norfolk in a bid to win the contract to rebuild Arundel Castle. He was unsuccessful with the bid – and sadly passed away 2 years later. Now a Grade II listed building, it was used in an episode of Doctor Who – I wonder what Hiorne would have made of that!
When you're ready to head back, we're retracing our steps, back down the steps to the kissing gate, back down the path and then follow the path back round to the other kissing gate. Here we turn right and follow the path as it traces the lake back to where we started.
Read more ...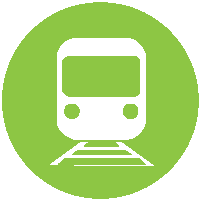 Nearest Train (or tube) Station(s):
Arundel (1.3 miles), Ford (3.1 miles)