To get this route free of charge please subscribe to The Outdoor Guide Newsletter, then register with our partner ViewRanger:
Nearest Train (or tube) Station(s):
Clapham
Walk Details
This Ingleborough Nature Trail is an excellent wheelchair friendly and accessible walk around Clapham in the Yorkshire Dales. £1 entry fee to Nature Trail (tickets available from machine at the entrance to the trail.)
With an all-terrain wheelchair available to borrow from Ingleborough Estate and one of the only wheelchair accessible show caves in the UK, this is certainly in the running for a top spot in the disabled friendly walks ranking.
Those who may not have a suitable wheelchair have the option to use this tramper at Ingleborough to travel the 1.5-mile trail to the entrance of Ingleborough Cave. This is a beautiful stretch all year round, but in Spring the rhododendrons are in bloom and make this nature trail a festival of colour.
Read more ...
The gentle stroll from Clapham along the gravel track takes you directly to the cave where you can then transfer into a manual wheelchair for a tour of Ingleborough cave. A well- lit footpath leads you deep into the cave where you will see an impressive display of rock formations such as stalactites, stalagmites and flowstones.
The accessibility of this walk alongside the exciting geological features that you will see mean everyone is happy with the Ingleborough Nature Trail!
Nearest train station: Clapham
Toilets: In carpark in Clapham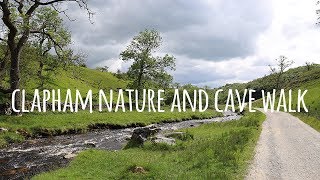 Click photos below for more information: