A Little Hidden Gem of an Accessible Walk
One of my interests is to be a volunteer for the Yorkshire Dales National Park Authority. I have a specific job description which is to work alongside the Access and Recreation Officer, Rachel Briggs in developing wheelchair accessible walks. We go out together to audit paths, which includes looking at the gradient, surface and width of paths. We also note gated access as well as places to sit, whether this be as a bench or perching rock.
We give enough information about the route so that people can make an informed decision as to whether or not the route is suitable for their own needs. We recently have been out auditing a suitable route which is situated in Westmoreland Dale – which is technically not part of the newly extended Yorkshire Dales National Park, but is so beautiful that it would be shameful not to include it as a "Miles without Stiles" route.
Read more ...
The route begins at the carpark in Nateby, a few miles from Kirkby Stephen, and follows the permissive path along the disused railway line, now owned and managed by the Northern Viaduct Trust.
The path is fairly flat and suitable for all types of wheelchair. There are impressive views over the Eden valley from the Podgill viaduct.
Whilst we were out on the walk we saw a red squirrel and Roe deer. The track is just over a mile long, leading into the small village of Hartley.
Deb's verdict
I used the WHILL power chair for this walk. The chair travelled comfortably over the uneven ground and through the muddy patches when I went off track to look at the poetry stones along the way. The robotic wheels made turning around so easy. I used just one bar of power on the chair (the whole route, there and back is about 2 miles).
This route is ideal too for push manual wheelchairs. The PowerPack available from TGA mobility makes it so much easier to handle the chair over uneven ground, making it a pleasure for both the chair user and carer.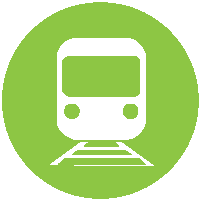 Nearest Train (or tube) Station(s):
Kirkby Stephen, Leeds
SaveSave
 Click photos below for more information: