Walk Details
Wow! Simply the thought had me smiling like the Cheshire Cat. This was one walk that I was so looking forward to.
This National Trails walk along the cliff tops from Ravenscar takes in the coastal path which forms a figure of eight – two circular walks that cross in the middle.
Read more ...
Only one of the hoops is fully accessible though, as a kissing gate prevents you from getting onto the second loop.
The route promised stunning views over Robin Hoods Bay and spectacular views out across the sea. To our disappointment the hedges and trees have become overgrown along much of this path, making any sort of view impossible. The road that leads back to Station Square has become full of potholes and very difficult to travel over in the wheelchair. Certainly not a surface that you would want to be pushing a manual wheelchair.
It's not all bad news though.
When we come across a difficulty we, at AccessTOG, contact the relevant people and let them know about the problems we faced on the walk. We have had a long chat with National Trails and we have been assured that someone is going out to survey the route and hopefully give it the makeover it requires to bring it back up to tip top condition.
There is even talk of plans to replace the kissing gate with a gate wide enough for wheelchairs and then, if by magic, the whole route will be accessible. When this happens it will certainly be a wondrous walk with a view.
AccessTOG are so looking forward to working with National trails to develop a new accessible walk from Whitby Abbey. We will keep you posted on this development.
The TOG team highly recommend stopping of at the Ravens Hall Hotel for afternoon tea, especially on a beautiful sunny day when tea can be taken in the garden which overlooks the bay. Sea, sun, cake and tea is simply the icing on the cake for this cliff top walk.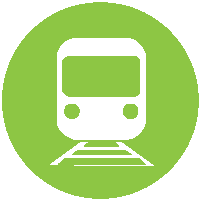 Nearest Train (or tube) Station(s):
Ruswarp, Scarborough