This walk begins in the seaside town of Seahouses and starts off along a tarmac coastal path which passes through the sand dunes, avoiding the cliffs and rock pools.
Please note, this 5km walk is only possible for wheelchair users who use an all terrain wheelchair that is suitable for the beach. It is important that you know the capabilities of your machine – please check manufacturers instructions. For the walk I used the TerrainHopper.
Read more ...
As the path ends there is a small track that leads down onto the beach. This path is not suitable for wheelchairs as it is very narrow and steep. However, continue further along following the sand dune track and you will come to an opening to the beach that was wide enough and flat enough for an all terrain wheelchair.
From here on, it is a beautiful walk along the beach, around the headland, passing under the shadows of Bamburgh Castle, and on to the car park where there is an accessible track.
Please take a note of tide times. Leave plenty of time for this walk. There are lots of ways to leave the beach by foot through the sand dunes but none are suitable for a wheelchair as there are stiles to cross over. If you only want to do a section of the walk, you could get picked up at Monks House where there is a lay-by.
For a wheelchair beach with more straightforward access, visit Beadnell Bay.
Love walking?
Book onto one of The Inn Collection Group's BRAND NEW Walk-Inn breaks in some of the best walking locations in the country. Find out more here.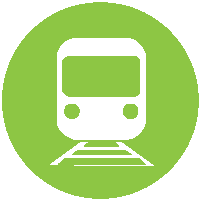 Nearest Train (or tube) Station(s):
Alnmouth or Berwick-up-on-Tweed
 Click photos below for more information:
Exploring the Northumberland Coastline from Lindisfarne and Beadnall Bay, with a stay at the Lindisfarne Inn.