Walk Details
Mary Ann Evans was born in Nuneaton in 1819. She was the third child of Robert Evans, a local land agent for the Newdigate family on Arbury Hall Estate.
In 1850 she moved to London with aspirations of becoming a writer (she had already undertaken a translation and had written articles whilst living in Coventry) and in 1857 she published ​"Scenes of Clerical Life" (3 short stories) under the pen name of George Eliot. This trail takes in some of the places in her hometown that are thought to have inspired her.
If you're driving into Nuneaton to do this walk, there is some parking available at the Chilvers Coton Heritage Centre. Alternatively, you can park in one of the many town centre car parks and walk down to the start of the trail.
Our walk starts at the All Saints Church in Chilvers Coton where she was baptised, and the family attended services every Sunday. It is also where her parents are buried. In "Scenes of a Clerical Life", this church is described as Shepperton Church with "its substantial stone tower looks at you through its intelligent eye, the clock, with the friendly expression of former days".
From here we cross over Avenue Road to visit Chilvers Coton Heritage Centre. This was originally a charity school founded by Lady Newdigate of the Arbury Estate and where Eliot's father was employed as a land agent. The Heritage Centre is well worth a visit – it's open to the public on Tuesday and Thursday mornings only. Next to it is the Craft Centre which is home to the Rhubarb & Mustard Cafe (and is fully accessible!).
Walking through the beautiful Riversley Park we now head to the Nuneaton Museum and Art Gallery. Pause here for a while to explore the exhibits – including The Writing Room that focuses on the life and works of George Eliot (including a George Eliot board game that the kids will love!)
When you're ready to move on – we head under the bridge and into the George Eliot Memorial Gardens. Here you'll find the memorial obelisk to Eliot that once stood in Arbury (her final resting place is in Highgate Cemetery in London).
Onwards into the town centre and the George Eliot statue that was commissioned by local artist, John Letts, in 1986. Along from here you'll also find the George Eliot Hotel. It was once called The Bull Hotel and features in Scenes of a Clerical Life as The Red Lion where the Lawyer, Dempster, and his acquaintances would meet.
Next stop on the trail is Nuneaton Library – home to items including letters, first editions and various scrapbooks archiving the many ways Eliot has been commemorated. Whilst popular titles are available to look at, a pre-booked appointment is needed to see other material.
From here we cross over into Church Street, or Orchard Street in Janet's Repentance, "Scenes of Clerical Life". The characters of Mrs Pettifer and Lawyer Dempster were inspired by people who lived on this street. Our trail ends​ at the Parish Church of St Nicolas – Milby Church in "Scenes of a Clerical Life".
Read more ...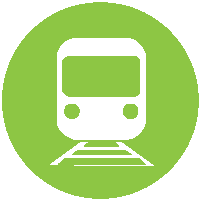 Nearest Train (or tube) Station(s):
Nuneaton (1 mile)