Walk Overview
This beautiful walk from the village of Pateley Bridge visits the UK's oldest sweet shop on its way to the crazy gritstone formations of Brimham Rocks.
Read more ...
The amazing balancing rock towers were created by an enormous river that dominated this landscape around 100 million years before dinosaurs walked the Earth, with wind and ice sculpting them into the weird and wonderful shapes found at Brimham Rocks today.
There are many walking trails in the area, and you can drive to the rocks if you're feeling lazy, but this route from Pateley Bridge allows you to savour a classic Yorkshire landscape.
Stop off at the village's famous sweet shop to stock up on treats before setting off, then wander through a mixture of rivers, moors, valleys and woodlands on your way to the Brimham Rocks Site of Special Scientific Interest.
The Brimham Explorer 825 bus runs direct to Brimham Rocks from Ripon, Fountains Abbey and Pateley Bridge; but always check the timetables before relying on it for your return journey.
This route was voted 49th in a 2017 ITV poll to find Britain's Favourite Walk.
TOG VERDICT: Great Yorkshire scenery, great walking, great rock formations and a great sweet shop. What more could you want?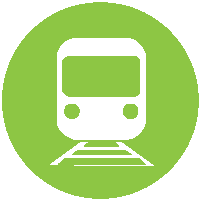 Nearest Train (or tube) Station(s):
Skipton, Leeds
 Click photos below for more information: