Walk Overview
This short circular walk explores the spectacular gritstone ridge of the Roaches – a hidden gem for walkers in the Peak District National Park.
Read more ...
The Roaches are popular with hikers and climbers, both for the spectacular landscape and the myths and legends that surround these quirky rock formations.
Legend suggests that Doxey Pool, a small tarn found on the path that runs across the top of the Roaches, is home to a mysterious blue mermaid named Jenny Greenteeth.
The pool is rumoured to be bottomless, and whether you believe that or not it'll make you think twice about dipping your toes into the dark waters as you pass.
One creature you actually may find in the Roaches, however, is a wallaby. During World War II five wallabies escaped in the area and established a breeding colony of 50 around The Roaches. Sightings these days are rare, but still recorded.
With views stretching all the way to Snowdonia on a clear day, and the nearby chasm of Lud's Church to explore if you want to turn it into a longer walk, it's easy to see why The Roaches are so popular.
This route was voted 53rd in a 2017 ITV poll to find Britain's Favourite Walk.

TOG VERDICT: A beautiful walk along a ridge that feels out of keeping with the rest of the Peak District, plus the prospect of spotting wallabies and mermaids…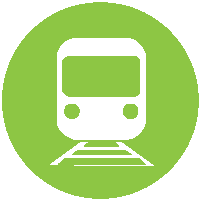 Nearest Train (or tube) Station(s):
Buxton, Stoke-on-Trent