Walk Details
This is a lovely little walk that offers a magnificent view out over the Longleat Estate. From the Longleat roundabout take the road towards Horningsham. Go past the timber yard and entrance to Centre Parcs and you'll find a car park on the left. Park up and then cross the road to start the walk.
The path is clear to see – it splits and you have the choice of going which ever way you like. Following either straight on will bring you to Heavens Gate. Time it right and you'll see the glorious rhododendrons in bloom along this path. 
If you have children or dogs with you – this is a great place to let them run free – discovering secret nooks and crannies in amongst the trees. 
The granite sculptures were commissioned by Lord Bath and created by the artist Paul Norris give Longleat a mini Stonehenge. Just beyond the sculptures is the view you've come to admire. It's a view that was designed by Capability Brown and, on a clear day, offers views out across Somerset.
If you'd like to see some of the other residents of the Longleat estate – as you look out towards the main house you'll see a track on your right heading down through the trees. Follow it to the end and if you're lucky you may see one of the rhino or some antelope in the wildlife park. The gate is as far as you can go – you'll need to retrace your steps back up the path and back to the view point before returning back towards your car. Perhaps you want to go the same way you came? Or you have the option to follow the second path back.
At the viewpoint itself there are sometimes livestock grazing. If you have a dog with you on this walk – you're advised to keep them on a lead around any live stock.
Read more ...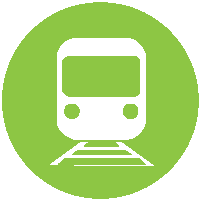 Nearest Train (or tube) Station(s):
Frome (6 miles) or Warminster (4 miles)