Julie and Ollie's Falkland Estate Walk
This is a lovely walk through Falkland Estate in Fife. Starting at the Stables car park, it is roughly 3.8 miles. The cinder paths make it accessible even when wet and the views over the Howe of Fife to the tips of the Highlands are well worth the walk.
There are two points of interest: first, the Temple of Decision, a ruined stone structure;
Read more ...
second, the Bruce Tyndall Monument which was built in 1855 by Margaret Tyndall Bruce to honour her late husband, Onesiphorus Tyndall Bruce.
The Bruces were the owners of the estate at that time. Falkland is a picturesque little village with cafes, pubs and gift shops which add to the experience of the day.
Julie and Ollie's Verdict: Easy to medium. Suitable for children but incline too steep for wheelchairs.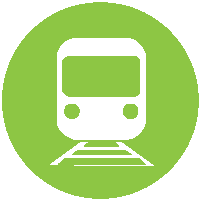 Nearest Train (or tube) Station(s):
Ladybank & Markinch, Edinburgh
 Click photos below for more information: